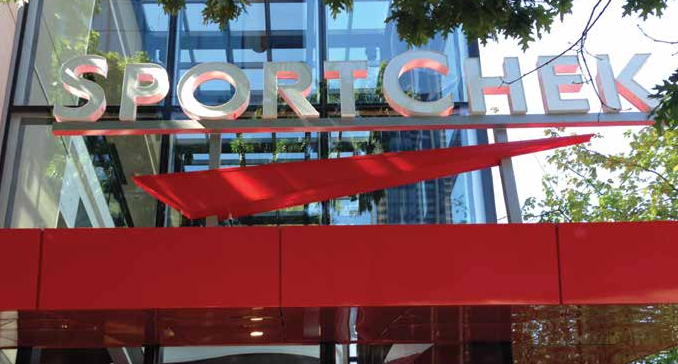 Horizon Metal Systems provided full service architectural sheet metal services on the Sport Chek panel installation on Robson Street in Vancouver.
The company completed product fabrication, including system design. As part of its typical process, Horizon Metal Systems' AutoCAD detailers create shop drawings that are presented to the architect for colour and design detail approval. Once the panels are fabricated, a related company, Horizon Cladding, co-ordinates the fieldwork, including installation of membranes, insulation, thermal subframing, installation of the panel system, and tie-in to other subtrades' materials.
On the Sport Chek installation, 3,000 square feet of Reynobond composite aluminum panel was installed in an engineered dryjoint panel system on an entry canopy roof, fascia, and soffit, both exterior and interior. Horizon Metal Systems did the design of the attachment system and fabricated the panels to sizes required, while Horizon Cladding co-ordinated and installed the panels on site.
Neil Deppiese, company president, said the project's main challenge was the canopy's design, which was curved in plan and an ellipse in elevation.
"Ellipses are a constantly changing radius so not only did we have to make the product curve in two directions, the amount of curve was never the same," he said. "There was a lot of time spent with the structural steel trade trying to understand what dimensions could be counted on to fabricate from, but in the end it came down to more of the field crews determining some benchmarks to give the shop for key dimension points to follow."
The aluminum composite material is pre-finished prior to fabrication, so all cutting, rolling, and forming had to be performed without any harm to the high-gloss red finish. In addition, Horizon was typically the last trade on site before opening, and the congested site on Robson St. was not allowing any laydown.
"Our schedule timeline had already been cut in half due to delays by others, but the store did officially open one day later than scheduled," said Deppiese.
Typically, Horizon likes to have four weeks' lead time on fabrication and approximately four to five weeks' installation time.
"On this project, while the proper durations were originally scheduled, we had one week to start getting product on site for field installation and had to have the installation complete within three weeks," said Deppiese. "We had a crew of four men on site, which was close to the originally planned manpower as you hav
e to build this sequentially. So the field forces worked a fair amount of overtime to complete it in the compressed time frame."
For more information about Horizon Metal Systems and Horizon Cladding, please visit http://horizonmetalsystems.com.