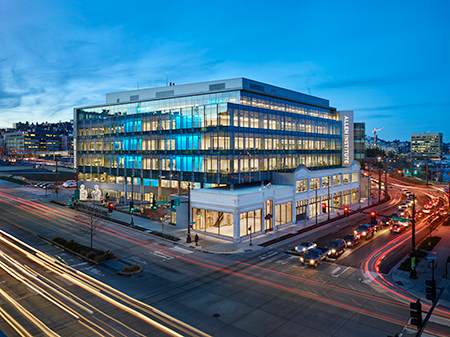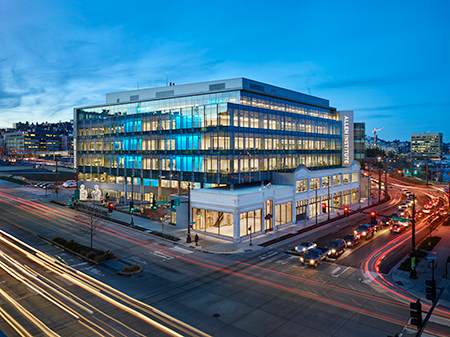 Project Name: Allen Institute
SMACNA Member: McKinstry
Designer: McKinstry
Location: 5005 3rd Avenue S, Seattle
Completion Date: September 2015
Materials / Products:
Stainless steel (wet exhaust)
Galvanized steel
3,400 sf of Prodema soffit panel
19,000 sf of Morin F-12 metal panel
1,500 sf of custom stainless panels at clean rooms/autoclaves
14,000 sf of 3/16" aluminum plate cladding panels (Over 37,000 lbs of aluminum)
At the confluence of architecture and science, technology and craftsmanship, preservation of history and promise of the future, lies the Allen Institute—an elegant, 270,000-square-foot research facility designed to reflect the institute's guiding principles: team science, big science, and open science.
A large, light-filled central atrium serves as the center, visually and spatially connecting the building's activities. Labs and offices are organized as a series of "petals" fanning outward from the atrium, maximizing opportunities for daylight and views. The atrium encourages interaction among the researchers through collaboration "pods," with white glass marker boards, open work lounges, a media wall, and views into the research labs.
Its seven storeys house dry and wet labs, a data center, and an education center on the top floor, an electron microscopy area on the ground floor, and a public art display that depicts the ever-adapting research occurring throughout the building. The building design also incorporates the terra cotta façade of the two historically-designated car showrooms that formerly resided on the site.
The Allen Institute shares all of the data from its research with scientists across the world. Similarly, the project team embodied that spirit of teamwork to thoughtfully plan and execute this one-of-a-kind project. The integrated design-build team leveraged BIM and Lean principles to resolve project challenges and meet the developer's goals for preservation and sustainability.
The result is a state-of-the-art research facility that is comfortable, efficient, versatile, and beautiful. The building is Certified Salmon Safe, and Certified LEED Gold.
The overall schedule was aggressive, and further compounded by an extremely busy marketplace where material manufacturers raced to meet the demands of multiple projects concurrently under construction. An extensive mechanical system and massive mechanical penthouse on level seven also meant a longer installation than typical.
The mechanical systems were fabricated offsite into multi-trade racks. By moving 90% of the mechanical work to offsite fabrication facilities, the team installed four weeks' worth of systems in three hours. This yielded increased productivity, safer working conditions, higher quality control, and an overall cost savings of 30%.
Notably, the Allen Institute's continued discoveries in the field of brain science drove design changes throughout the course of the project. During both design and construction, Allen Institute scientists, for example, would begin to use new or more equipment and realize their new space would need additional exhausting or cooling. The integrated team designed and built in as much flexibility as possible so as to be prepared to accommodate significant changes or shifts in the owner's requirements.
Labs require extensive mechanical systems that have to be carefully co-ordinated to make sure there are no clashes. The Allen Institute was particularly challenging in this regard as the ceiling space was highly limited.
McKinstry architectural metals also had a large piece of the project with multiple cladding elements. These included 3,400 square feet of Prodema soffit panel, 19,000 square feet of Morin F-12 .040 aluminum metal panel, 1,500 square feet of custom stainless panels at clean rooms/autoclaves, and over 14,000 square feet of 3/16" aluminum  plate cladding panels (Over 37,000 lbs of aluminum).
Sustainability and energy efficiency
The project incorporates numerous cutting-edge features that have made this building one of the most energy-efficient research labs in Seattle. This lab building makes the most out of every kWh by using the building HVAC system (which includes radiant panels, chilled beams, and heat recovery chillers) to reclaim significant sources of heat from lab equipment and the data center, and deliver it to more lightly occupied office areas or to heat domestic water.
Additionally, the lab's data center can serve as a humidifier for the building via direct evaporative cooling when it's cold and dry outside. Similarly, the building uses an Aircuity system, an uncommon and innovative technology, to monitor contaminants in open lab spaces, and automatically adjust the outdoor air provided to those spaces to keep pollutant concentrations low, providing verifiable improved air quality and energy savings. ♣