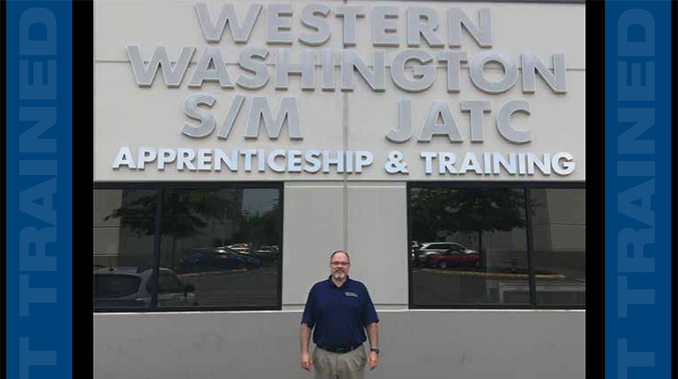 SMACNA-Western Washington's apprentice program is growing.
Donald A. Steltz became Executive Administrator of Western Washington Sheet Metal Joint Apprentice Training Committee (JATC) a little over a year ago with a plain and simple mission: to make it the place everyone wanted to go and get trained.
Steltz tackled the mission, leading by example and sharing his experience with others. "I work hard and want others around me to do the same," he said. "I worked my way up the ranks from pre-apprentice, to journeymen, to supervisor, to manager, to a leader in the Union and JATC. I barely made it through high school – as a matter of fact my mother put "Thank God" on my graduation cake – but now have a Bachelor of Arts in Labor Education."
Improving the JATC's offering was a top priority and first required meeting with contractors and contractor reps to find out exactly what the committee could do to ensure training curriculum met contractors' needs. "What did they see coming up and where the shortage of workers might be?" said Steltz.
Another key objective is improving apprentices' view of the JATC by first identifying their concerns. "I would hear the apprentices said school was a waste of time and they are not learning anything," said Steltz. "Last year the apprentice would have to go to school four weeks a year and attend 32 hours of night school. It was to the point the apprentice was just taking anything at night and not learning anything because they were 'just doing time' to get their raise or fill the obligation of the apprenticeship."
This year, the JATC went to five weeks of school and eliminated night time hours and it has made a world of difference.
"The attitude of the apprentice has changed, and the contractors feel the apprentices are learning more in that extra week with better defined training," said Steltz.
The JATC now has a greater presence at and is more accessible through multiple training centers and union meetings. "I made it a priority to make sure the JATC was represented and accessible," said Steltz. "Our DuPont location rarely had coverage in the office—we now have coverage three days a week, and I personally attend at least two to three union meetings a month."
Presence in these locations is also about talking regularly with apprentice classes to garner feedback and hear about issues that are preventing positive change.
"If we, the JATC, is not listening, it will be a long five years for the apprentices or our members who are looking to further their education," said Steltz.
The JATC has also been rebranded with a fresh logo, new colors, and inspirational posters.
"I'm all about in with the new and out with the old," he added. "We changed logo and the attitude—the perception was that the JATC didn't do much for the apprenticeship program but we changed and revitalized it. We re-did the website and worked on a lot of the little things people see, but might not realize are a big deal."
This summer will see the kick off of the SmartHeroes program, which brings active military men and women into the sheet metal industry.
Under the program, current active soldiers six months out from discharge will come in for a seven-week intensive program that will render them equivalent to a first-year apprentice.
The program will include a nation-wide agreement to honor the training and allow graduates to relocate anywhere in America and retain their standings to enter into a second-year apprenticeship program.
The class size will be 12–15 soldiers and include 224 hours of training, which is higher than most first-year apprenticeship training programs. Inside of that, participants will be exposed to various parts of the industry in hopes they would be able to pick which part of the trade they would most like to enter.
"Wherever they end up, they will either be in line for a job or at least get an interview for a job with an apprentice program so they are making a better living," said Steltz.
SmartHeroes will be a pilot program and the first in America, he adds. "The first class will start on August 15 and the program will have a second class starting in mid-October. That will be another exciting event for us."