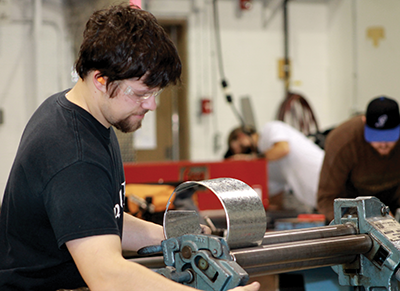 By / Jessica Kirby
Photos courtesy of SMWTC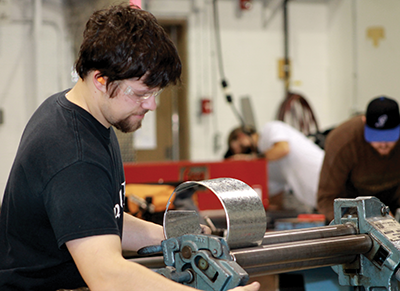 The Sheet Metal Workers' Training Centre (SMWTC) is running overtime this year—a sign of good times to come and ample labour supply for 2017.
The SMWTC is more or less a self-correcting mechanism, which has an upside and presents challenges. When interest in the trade is high, classes open up to accommodate, and when the need wanes, the school adjusts. At the moment, there is definitely no shortage of interest.
"We have had triple classes going for some time," said Jud Martell, training co-ordinator at SMWTC. "There were some quirks that came out of the last contract negotiations and a bubble of apprentices, but even though a slow down in the industry will take some off books for the short term, people are returning to Vancouver from the wind down of projects out of town."
SMACNA deserves recognition for a job well done at not abandoning its commercial projects, said Martell. "Other trades sometimes price to the industrial market, but SMACNA did not, which means good workers are able to come back to Vancouver and get decent work and pay, working for companies that care about you."
The school dynamic more or less works out because it's hard to publicize what it does—it benefits a small amount of people, says Martell. By extra classes, people will get through apprenticeship in timely way and won't be held back in pay raise or being journeys. The industry is better off in a shorter time frame because they aren't taking people out of work.
He says the school is prepared to go like gangbusters: "The school takes care of itself and follows the industry," he says. "There are either apprentices or not—the industry creates our business," but since the mad rush in January for which the class numbers increased, there seems to be some slowing down over spring and summer.
One anomaly this spring was less of a rush of apprentices coming straight from high school. Other trades higher in demand, like electrical and refrigeration mechanics, may have received more attention, or they may have reached out to a greater extent.
"The difficulty is that it works well enough to keep us satisfied so we don't feel the pain of having to find people," he said. "We don't necessarily have to invest in the cycle—just manage the people we have and keep them upskilled."
Martell says despite the cycles and fluctuations, he believes there is no better school around than SMWTC.
"We aren't marble and high tech glass in a five-storey building," he said. "We are a tin shack in the middle of no where. But if you go square footage per days training, cost per working hour, or dollar per seat from the government, we journey more per capita, more than other jurisdictions, and when our students are in school, we do 30 per cent more than the accepted standard—and we do it at a fraction of the cost. No one can beat us in all those categories."
Key challenges moving forward in 2017 and beyond are keeping everyone reasonably employed as new graduates pile on. At the moment, there is about a ten per cent unemployment rate, which is accountable mainly to worker lifestyle changes and preferences, and some employer challenges.
Also on the horizon is SMWTC management learning more about the Construction Industry Rehab Plan and its applicability given WorksafeBC and other industry partners' recent focus on mental health and addictions in the workplace.
For more information about SMWTC and its programs, please visit the school online at http://www.smwtcs.ca/. ♣