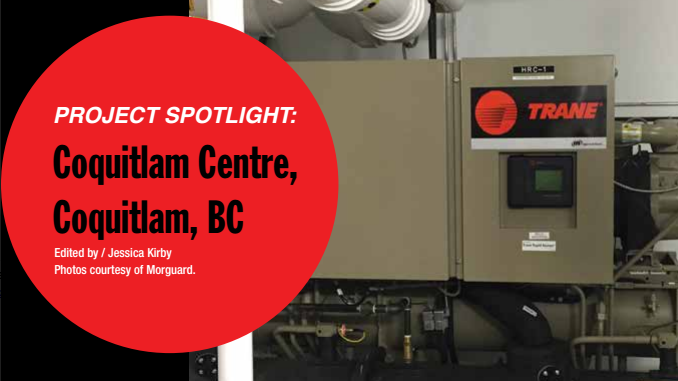 Coquitlam Centre houses approximately 200 shops, food court, and administration offices. The mall's large AHUs provide hot water heating, which is generated by two 6.0 Mbtuh natural gas boilers to the food court and corridors, while the shops have dedicated cooling only fan coil units. Due to lighting and occupant load in shops, there is a need for cooling year round while simultaneously demanding heating for ventilation systems. The building's baseline energy consumption, emissions, and cost prior to this project are presented below:

Morguard, the property management team at the one-million-square-foot, two-level super-regional centre, in partnership with Trane and SES Consulting, implemented a strategy to provide substantial energy savings by using heat recovery. This project's objective was making sustainability accessible and affordable while generating a strong environmental impact. SES Consulting proposed a cascade heat recovery chiller (HRC) that would reject waste energy into existing heating water systems instead of facility cooling towers.
The HRC would provide 60 degrees C hot water to air handling unit coils, increase the efficiency of the existing chillers, and reduce water consumption.
The scope also included replacement of leaking AHU coil valves as well as the addition of speed drives on major heating pumps. The project was commissioned in February 2016. Actual project costs and measured savings results (from monthly utility billing) are below:

Trane Engineering and SES Consulting worked together to verify design details and the feasibility of the heat recovery system. The team developed a sequence of operations to maximize the use of the recovered heat and compiled energy savings projections. The energy study data was provided to Fortis BC to enable funding support. Morguard's operations group included the heat recovery project details and budget in its capital plan and presented it to the company's management group for review and approval.
Team capitalized on the configuration of Coquitlam Centre's mechanical room, with chillers and boilers in the same space, which created an opportunity to reclaim and reuse the heat system's waste. They implemented an avant-garde heat reclaim solution, changing the HRC configuration to operate at a higher capacity and higher efficiency, reducing operating costs and the Centre's footprint.
As a result, Coquitlam Centre's heat recovery project resulted in a 70% reduction in annual gas consumption, 4% reduction in electricity, and 35% reduction in annual greenhouse gas (GHGs); over a million kilowatt-hours per year savings, with a record payback of two-and-a-half years; and, similar switching of heating fuel from gas to electricity has an estimated payback of seven years.
The Centre is also saving water due to decreased cooling tower use.
The Centre's HRC may become the best tool for cutting GHGs in the building sector in the Tri-Cities area (Anmore, Belcarra, Coquitlam, Port Coquitlam and Port Moody).
Coquitlam Centre was recognized with a Sustainability Innovator – Technology Award from the Healthcare of Ontario Pension Plan (HOOPP), having demonstrated a meaningful impact on a relatively small capital investment by implementing heat recovery to reclaim and reuse the current system's waste heat.
2017 is the third consecutive year that Coquitlam Centre has received recognition for Sustainability Innovation. Prior to this year's Technology Award, Coquitlam Centre won the Sustainability Innovator Award in 2015, the Stakeholder Engagement Award in 2016.
According to SES Consulting, this project can be replicated at many facilities, where ever year-round cooling is required while simultaneously using hydronic water heating. Many commercial office, retail, and grocery facilities fit in this category.