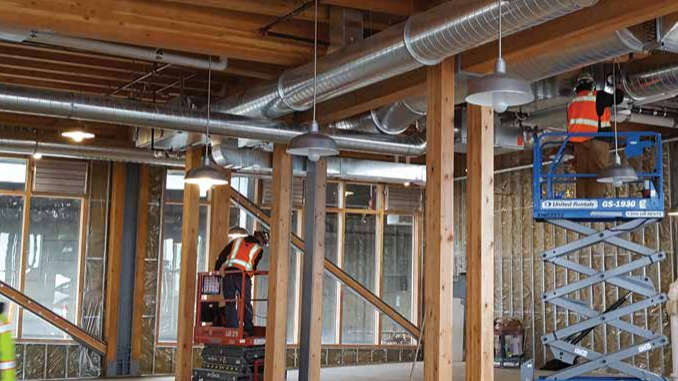 The iconic Seattle Pike Place Market has been in various stages of planning and design for more than 40 years. The project came to life just as Seattle's waterfront is undergoing major transformation with the construction of an underground tunnel to replace the seismically-challenged viaduct and a major retrofit of the sea wall protecting Seattle's waterfront both under way.
The project occupies 210,000 total square feet of mixed-use space, targeting LEED Gold. The space configures 30,000 square feet of open public space with 47 all-weather rooftop stalls for farmers and artists in the Pavilion and 12,000 square feet of commercial and retail space for artisans in what is known as Producers Hall. It also comprises 40 units of low income housing, a Market Commons space, 124,000 square feet or 300 stalls of underground parking, and public art installations.
Auburn Mechanical, mechanical contractor serving the Puget Sound area and SMACNA-Western Washington member, was a proud participant in the Pike Place Market expansion in what is known as the Pike Place MarketFront. The company's scope of work involved central garage exhaust systems that comprise in-line exhaust fans with VFD controls that collect air from collector ducts routed along the west and north walls. Exhaust air is routed to a shaft and discharged to the west through wall louvers.
Auburn's mechanical and electrical equipment cooling scope included dedicated exhaust systems that incorporate energy recovery in the public restrooms; and, a modified condenser water-based hydronic heat pump (HHP) HVAC system in the retail spaces.
"Unlike traditional HHP systems that use fixed outside air quantities, the MarketFront system incorporates full 100% outside air economizer capability," said project manager for Auburn, Lisa Horn. "A demand-controlled ventilation strategy using CO2 sensors is utilized to minimize energy consumption and react to actual occupant ventilation needs."
The condenser water system is used to temper incoming outside air using duct-mounted water coils, and all piping and ductwork is fully exposed in the occupied space, requiring special attention to layout and quality of installation.
"Building pressure relief is provided by a series of motorized louver/damper assemblies built into the storefront curtain walls," said Horn. "The existing condenser water system was extended to include capacity for the new common and retail spaces."
A boiler system provides domestic hot water for the low-income residential units and the main domestic waste system includes lead/lag circulation pumps to handle the variable capacity of the hot water in the new common and residential units.
"The storm water management system routes rainwater and surface water to an underground vault and is then pumped to the utilities storm water management system," said Horn. "The expansion includes services for all new public restrooms, janitor's services, and a vendor kitchen sink with fixture grease collection."
New drainage piping systems support the custom-built surface and overhead planters throughout the open decks.
The mechanical system contributes to the LEED Gold with its demand-controlled ventilation and 100% air economizer system, and high efficiency fans, pumps, and HHPs.
As with any project, this one had its share of challenges, including installing louvers and garage exhaust ducts within a four-foot proximity to the Seattle Viaduct.
Coordination with all trades within a very tight product schedule," was also a challenge, said Horn, given there were different sub-contractor teams on the commercial and residential elements. "System completion and final sign-offs of the residential building were 100% dependent upon installation of the house systems installed as part of our commercial scope of work," said Horn.
The job site is sandwiched between Western Avenue and the Seattle Viaduct, plus the existing Pike Place Market maintained full functionality during construction. To successfully manage the space and time constraints, the team utilized LEAN construction principles (pull planning) and just-in-time deliveries.
Maintaining a minimum 13' overhead clearance in as many areas as possible within the retail spaces also presented a challenge, said Horn. "The intent was for the exposed mechanical systems (ductwork, piping, plumbing, and HHP units) to enhance the buildings design and feel," she said. "To achieve this criteria, Auburn Mechanical provided design assistance revising the system layout to accommodate the tenant improvement architect's design criteria, and coordinated running mechanical ductwork and piping within the beam pockets to visually enhance to the architect's design intent."
The initial phases of the project were 3D modeled, with Auburn Mechanical taking lead on MEP coordination. Increasing the scope to include commercial space 150 occurred later in the project, and with minimal time allowed prior to substantial completion. "To meet schedule, the team determined the best plan would be to field-detail the mechanical systems and hold in-person on-site MEP coordination meetings," said Horn. The project's underground garage and Level 1 Interior Spaces reached substantial completion in March 2017, and the commercial space exterior, Level 1 exterior plaza, breezeways, and Level 2 plaza reached substantial completion by the end of April.