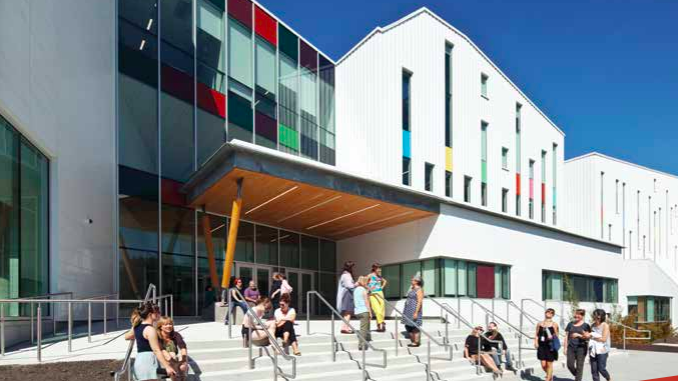 Owner: Emily Carr University of Art + Design
Architect: Diamond Schmitt & Chernoff Thompson
Mechanical Contractor: Pitt Meadows Plumbing & Heating
General Contractor: Ellis Don
Sheet Metal Contractor: Northwest Sheet Metal
Construction of a new $122.65-million campus for Emily Carr University of Art + Design wrapped up this fall, providing the university with a world-class space to accommodate student demand and grow its programming. The Great Northern Way Campus is a contemporary and spacious new facility that includes a number of striking architectural features including extensive use of glass, LEED Gold certification, and construction consistent with BC's Wood First Act.
Surry-based custom sheet metal contractor and SMACNA-BC member Northwest Sheet Metal completed all the ventilation requirements on the project. The scope including pre-fabricated mechanical rooms that were built in Pitt Meadows Plumbing & Heating's shop and medium velocity VAV systems that delivered air to chilled beams. The work included several dust collection systems – half were placed on the third floor – and miscellaneous exhaust systems handling fumes, welding, paint, and smoke. "The entire project was done in BIM modelling software REVIT 3D and pre-inserted to ensure the ceiling had a cleaner look," said company owner, Bernie Antchak.
Antchak said the most unique feature of the project from his company's scope of work was the amount of specialty exhaust systems.
"There are over 120 exhaust systems, so the roof is quite congested," he said. "Secondly, the pre-fabricated mechanical rooms were unique as they came out with all mechanical, electrical, controls, and insulation, and were tested, run, and commissioned at factory. This was a huge help in helping gain some ground with the schedule."
In fact, the schedule and drawing progress proved to be the largest challenge on the project. "The site was progressing so quickly that the mechanical consultants were having trouble keeping up due to the owner changes, room layout on the fly, and other matters," said Antchak.
The project broke ground with 50 per cent drawings and Ellis Don raced on from there, which made real-time BIM a handy tool and complemented the layout while in the form stage.
"The mechanical team was getting live updates while onsite through their iPads, which proved to be very useful but there were definite times of old school tactics as well," said Antchak.
The Great Northern Way Campus carried a capital cost budget of up to $122.65 million, including a provincial investment of up to $101.65 million, with $21 million to be raised through the university's capital campaign. The Emily Carr Students' Union (ECSU) invested $315,000 in the new campus as well.