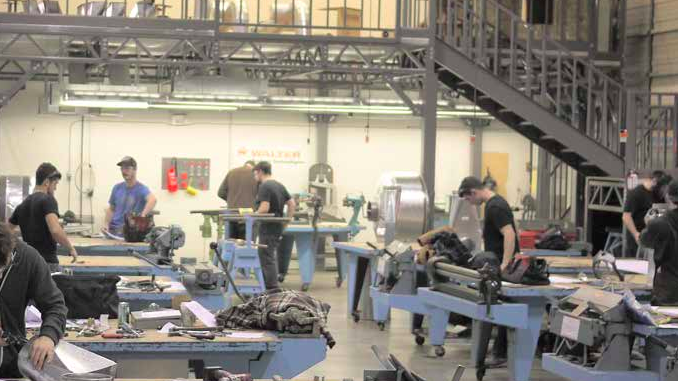 The Sheet Metal Workers' Training Center is holding its Annual Apprentice Contest November 18 at the training centre in Surrey.
As the largest sheet metal competition in North America, the SMWTC contest consistently brings out the region's best apprentices in four levels, corresponding to students' year of apprenticeship.
November competition at SMWTC Jud Martell, training co-ordinator for the SMWTC, said the contest is open to apprentices in Local 280 and can accommodate up to ten participants in each level.
"Last year, apprentices of the SMWIA Local 280 and SMACNA-BC contractors gathered at the training centre to compete in the SMWTC's Annual Apprentice Contest," he said. "Apprentices competing for 13 different contractors in four levels of shop (project and welding), theory, and drafting over eight hours made for a remarkable day in sheet metal."
Shop component projects in last year's contest ranged from assembly of a simple run of duct for ten competitors in Level 1, to turning a copper bucket in Level 4. By no comparison, the shop portions of the contest drew the most spectators.
"All four portions of the contest count equally and make for some close races as differing individual strengths are encountered throughout the contest," said Martell.
The theory portions were done through an online test with Larry Lawrence of the International Training Institute (iTi) here to continue developing this portion for regional contests.
Daryl Garrison and Dan M. of the iTi were also on hand to proctor and hand out the prizes from over 20 sponsors totalling over $7,000.
"Noteworthy prizes from Steetz (a tool package worth $800) and Crosstown (a pair of hockey tickets in the $500 range) made the lottery style draw for participants a highlight ending to a successful day," said Martell, sending big thanks to SMWTC staff and sponsors for a successful event in 2016.
Apprentices in Local 280 are encouraged to register for this year's contest by the November 10 deadline. As in previous years, up to ten participants in each of four levels are eligible to compete, and contestants will be challenged by shop, theory, and drafting components that correspond to their year of apprenticeship.
Last year's level 3 winner went on to compete in the BC Skills Competition, and the Level four winner went on to the Canadian contest, said Martell.
Visit the Sheet Metal Workers' Training Centre online at www.smwtcs.ca or call (604) 882-7680 for information or to register.