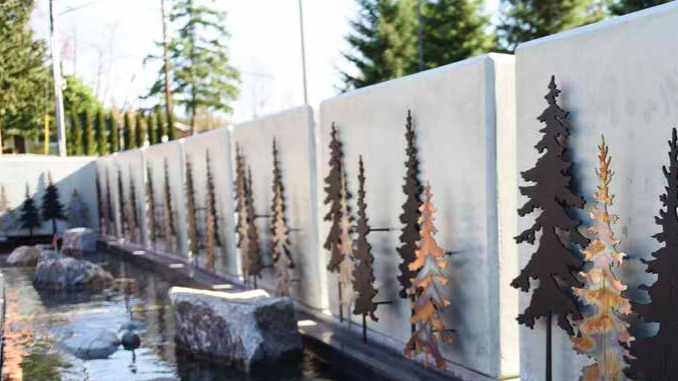 SMACNA – WW Member Firm: Johansen Mechanical Inc.
Designer: Womer & Associations / Johansen Mechanical
Materials used: Stainless Steel, Hot-Rolled Powder Coated Steel
The featured image highlights a portion of the intricate architectural metalwork provided by Johansen Mechanical, Inc. on the Stillaguamish Administration Building in Arlington, WA. Completed in February 2016, the decorative finishes hold historical significance to the Stillaguamish Tribal members. The design expertise of JMI's team of metal artisans made it possible to coordinate with Womer & Associates in the design, build, fabrication, and furnishing of the interior and exterior architectural elements throughout the facility.
The building was designed to resemble a canoe when viewed from above, to recognize the Stillaguamish Tribe's heritage as River People. From the ground, the 57,000-square-foot building features various natural textures and Indigenous elements utilized throughout the complex. Carved wooden eagles perch on the branches of a manufactured tree situated in an atrium between the first and second floors. The river reference appears among shades of blue on the atrium's bottom floor. In the middle of this river is an historic dugout canoe recently returned to the tribe by the Stanwood Area Historical Society. Railings showcase metal salmon and the walls are a stunning gallery of art from Northwest Indigenous Tribes. Warm woodgrain on the exterior complements the hues of the surrounding landscape and the interior material palette. The $13.8 million administration buidling is built on tribal trust land adjacent to the Stillaguamish Reservation, and will bring together previously scattered departments.
About Johansen Mechanical, Inc.
Johansen Mechanical Inc. was established in 1983 by Allen Johansen, primarily as a sheet metal and HVAC construction company. The foundation of our success has been long-term social connections within our community and among our
employees.
Today, Johansen Mechanical, Inc. has transitioned to a second-generation family owned and operated business that maintains the flatten structure to which it was established. Our company's structure enables management to have a shortened distance from the frontlines to effectively and efficiently deploy resources, which for our customers, translates over to a rapid response.
Our dedicated owners, Keith Johansen and Derek Holm spend a considerable amount of time establishing and maintaining personal connections between the families with whom and communities in which we operate. As a result, we have a deep knowledge of our ever-changing industry, partners, and suppliers, and most importantly …our customers.
Maintaining slow, conservative growth has allowed us to build our customer base. Learn more at http://johansenmech.com/.