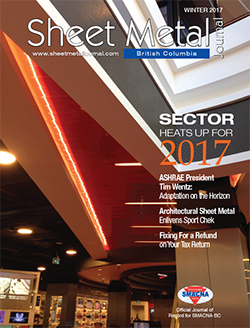 Sheet Metal Journal, British Columbia is sent to SMACNA-BC members, as well as contractors, general contractors, building code and regulatory authorities, manufacturers and distributors, architects, engineers, and other construction professionals.
Fast Facts
Our magazine is sent to the industry's most recognized and respected professionals
Our contributing writers and advertisers are the best in the business
Industry professionals rely on us for honest, focused content to keep them current with market changes, new products, and the latest news in their local markets
As an advertiser, your message gives you the prestige and credibility of appearing in one of the most trusted and respected magazines in the industry
To reserve space in a coming issue contact:   Christina Tranberg –  Tel: 1.877.755.2762 ext. 1408 / 250.667.0401
Email: ctranberg@pointonemedia.com
New in 2017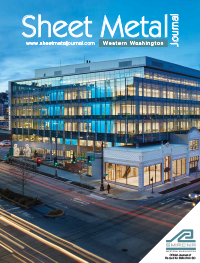 In the Spring of 2018 we'll be heading into our second year of publishing  Sheet Metal Journal Western Washington with the support of SMACNA Western Washington. We'll continue to showcase the amazing work happening in Seattle and surrounding area and provide industry another resource to support their business.
For more information on advertising in our new publication or to receive a copy of our media guide please contact:
Christina Tranberg, Account Manager
tel: 1.877.755.2762 ext 1408 • 250.667.0401
email: ctranberg@pointonemedia.com